After a successful fight night on the 7th, Team Sumalee were back at Bangla Boxing Stadium for sponsored fighter, Gustavo's debut on MX Muay Extreme (Muay Thai fight in MMA gloves).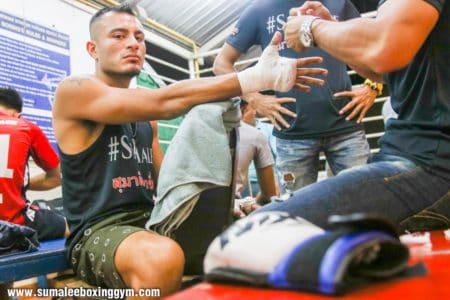 Gustavo faced a tough Thai opponent from Phuket Top Team, Jacky.  He is a durable fighter with great kicks and strong teeps.  Nevertheless, 0ur Sumalean was very confident and knew he would close the distance and dominate the fight with his boxing skills.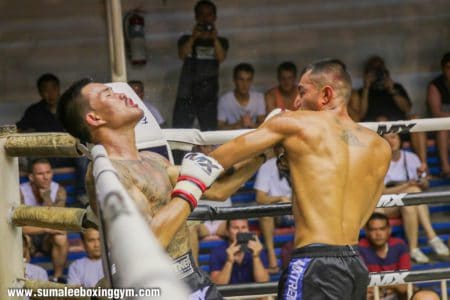 The action kicked off right from the start of Round One with both men throwing heavy punches and low kicks. Gustavo's boxing skills shined throughout as he landed clean right hands, solid left hooks and upper cuts on the Thai fighter, who looked shocked as he tried to fight off the Sumalee fighter.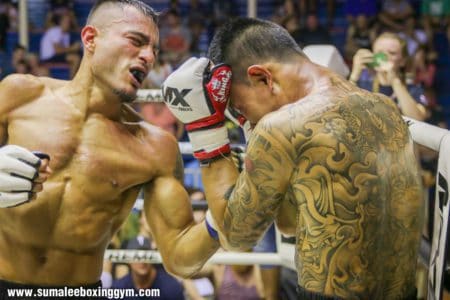 Gustavo was comfortable and settled into a nice rhythm landing at will giving the referee no choice other than to give Jacky an eight count as he tried to collect himself. The round ended with Gustavo landing a solid combination which stunned the Top Team fighter even more.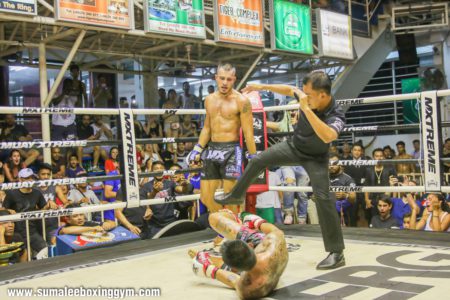 Round Two started off with Gustavo landing a solid right cross on the Thai fighter visibly stunning him.  Jacky showed his heart and fought back, but was no match against our fighter from Ecuador.  Gustavo was beaming with confidence, showcasing his boxing skills.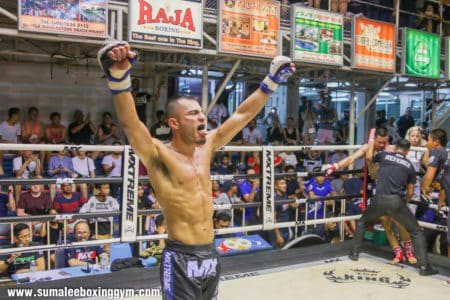 In the middle of Round Two, Gustavo caught a body kick and landed a right cross, knocking Jacky down and  clearly hurting the fighter from Phuket Top Team. Failing to make the eight count, the fight was stopped, declaring Gustavo Sumalee the winner by TKO.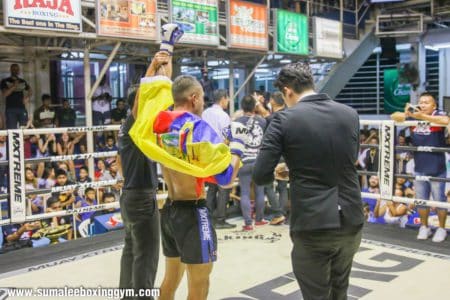 This was easily the fight of the night with both men showing how much they wanted the win.  They fought back and fourth, both showing considerable heart. Gustavo's performance caught the eye of MX Muay Extreme promoter who invited him to participate in MX Muay Extreme four-man tournament.  This will take place next month.
Watch the full fight video here.