Since his last fight on the 16th February, sponsored fighter Joe Le Maire Sumalee has been plagued with injuries. These included shin splints and the cut on his forehead re-opening, which made it almost impossible for the young fighter to train fully and consistently.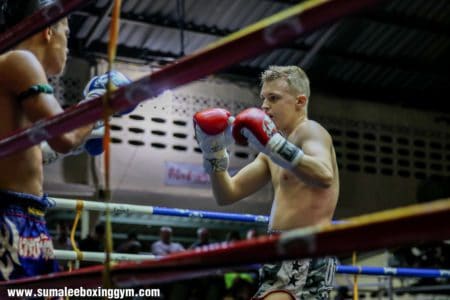 Joe maintained his fitness levels by engaging in low-impact exercises such as cycling and weight lifting using the Sumalee Studio every day. This enabled him to make the most of his time out of the ring by increasing his core strength. After being given the all-clear to fight again, Joe picked up his training significantly.  Inspired by the return of Khru Nat (Mongkol Thong) to Sumalee, Joe started early before each class and stayed on late to ensure he was making the most of each session.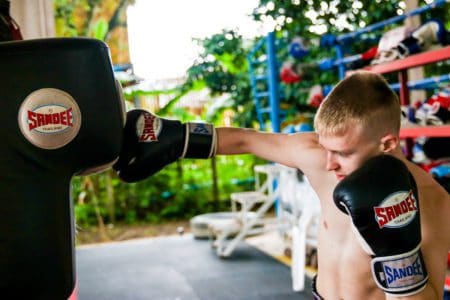 He has been working closely with trainer Mongkol Thong to sharpen clinch skills.  He has also had the guidance of SBG Nutrition which has enabled him to control his weight as well as ensuring that he had enough fuel intake to support his gruelling training regime.  Throughout all of his time at Sumalee he has continued to receive inout from Don Heatrick Strength and Conditioning.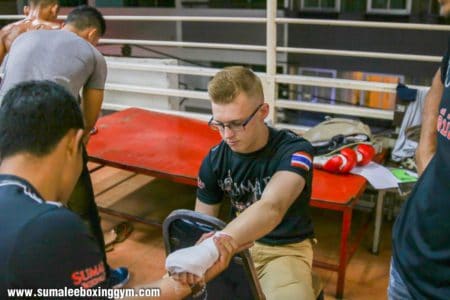 Come fight night on the 21st April, Joe was in better shape than ever and ready to make a statement. He faced Bovy Looktumsuea, an experienced Thai who has previously fought in top stadiums in Bangkok.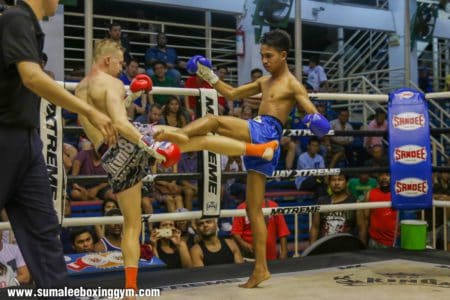 In Round One Bovy attempted to start in the traditional slow style but Joe came forward to land strong punches. With most of these directed at the body, his opponent was alarmed by his power.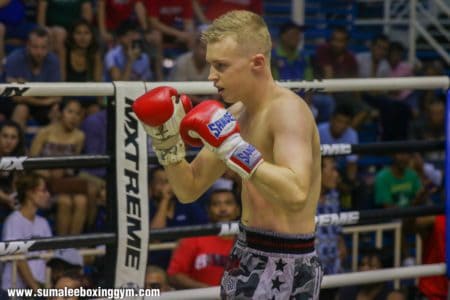 Despite taking a few body kicks through the round, Joe's shots were more effective, and his opponent was visibly tired from the constant attack.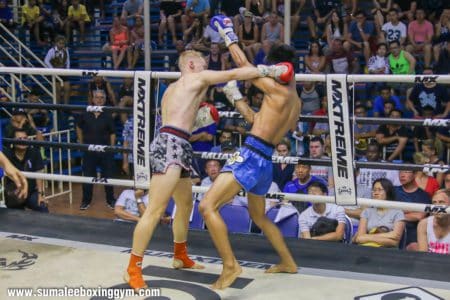 The second round Joe continued with his strong boxing attacks, whilst replying to any kicks or knees he received. Joe's attacks were more accurate and powerful than Bovy's.  He was able to land a solid left hook which destabilised his opponent. Bovy attempted to tie Joe up in the clinch but Joe was able to get the better position and land solid knees.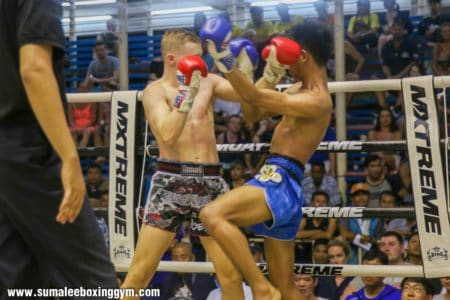 Both fighters began Round Three in the clinch, where again Joe gained a superior position and landed stronger knees. The two fighters broke apart and traded kicks before Joe went back to his boxing. He slowed Bovy down, backing him into a corner winding him with a teep.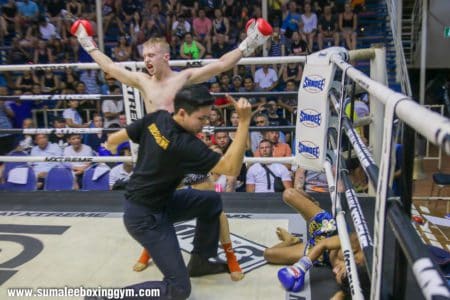 As his opponent was still recovering, Joe saw an opportunity and threw a right hand then a left hook to the body.  Bovy was knocked to the canvas and unable to continue.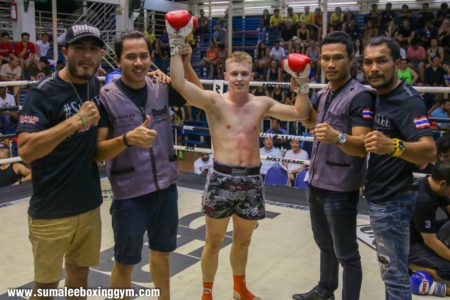 Joe was declared the winner by TKO.
Watch the full fight video below.