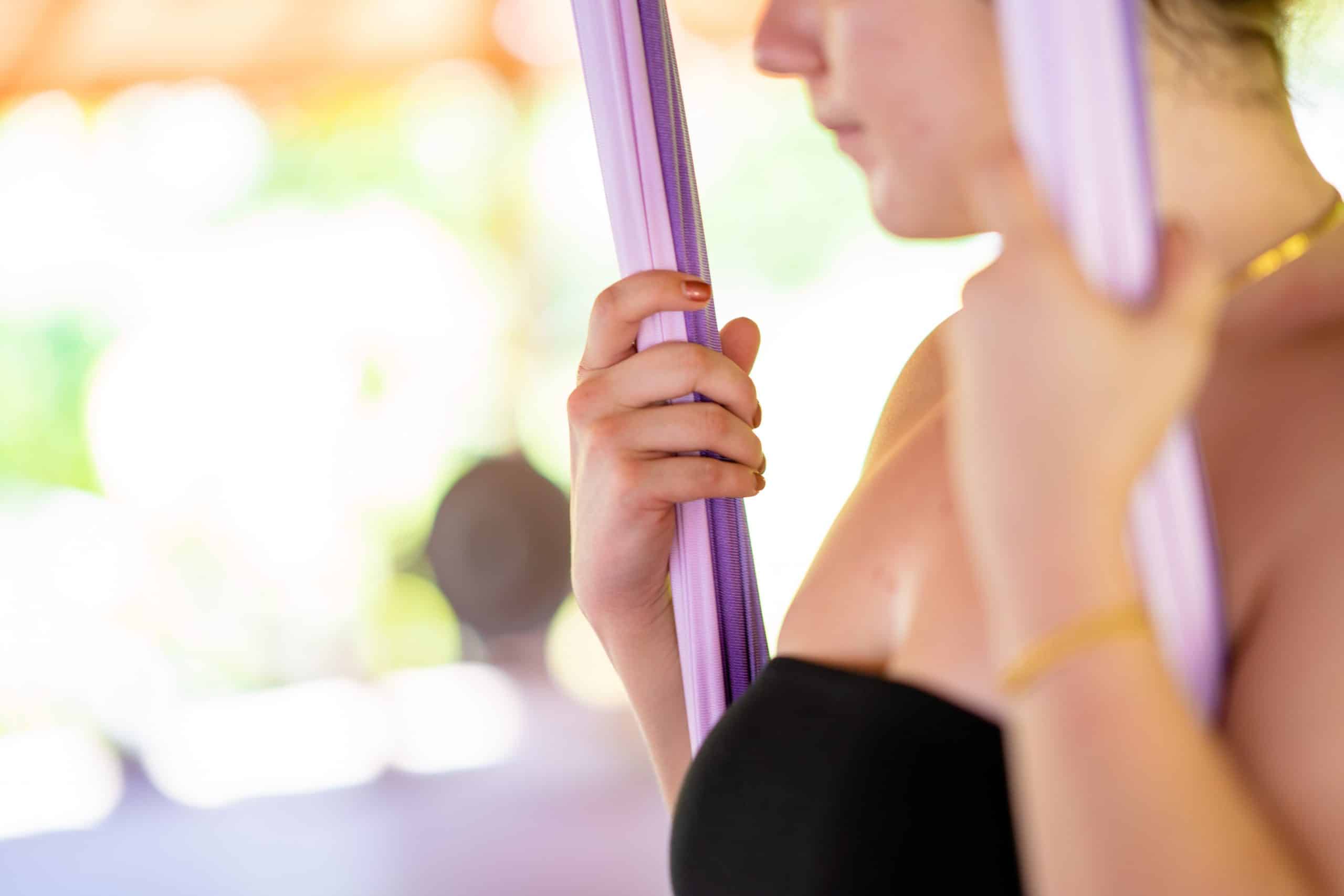 Hang tight… this is no normal yoga class, this is a gravity-defying full-body workout known as Aerial Yoga.
Yoga is all the rage right now, and whether you're just starting out, a yogi that knows their "oms" from their "namastes" or just someone content on filling their feed with houseplants and yoga pants, it's pretty clear that yoga is a great way to to become better versions of ourselves – and there's a new dog in the shala: aerial yoga. 
Since you first stumbled across Zendaya in The Greatest Showman (and then compulsively began scrolling #antigravityyoga on Instagram), the world of aerial yoga has probably enticed and intimidated you in equal measures — and we totally get it. Something about the way these zen-masters are able to pull mid-air poses with just a silk hammock supporting them is gorgeous and dazzling and alluring and, wait for it, a seriously epic workout. But you don't need to be a Cirque du Soleil acrobat to learn and love aerial yoga. 
Not at all. 
Actually, most of those who float weightlessly through our the silks in our  open sided shala simply fell in love with aerial yoga because they're the kind of people that value the experience of a workout as much as the number of calories they burn. No secret lives spent in a travelling circus, just the desire to learn a new skill, improve their fitness, boost their mental wellbeing and want the chance to pull some poses inside a large, silky hammock. As a workout, there is nothing else quite like it. 
And in that spirit, here's everything you need to know about aerial yoga:
What Exactly Is Aerial Yoga?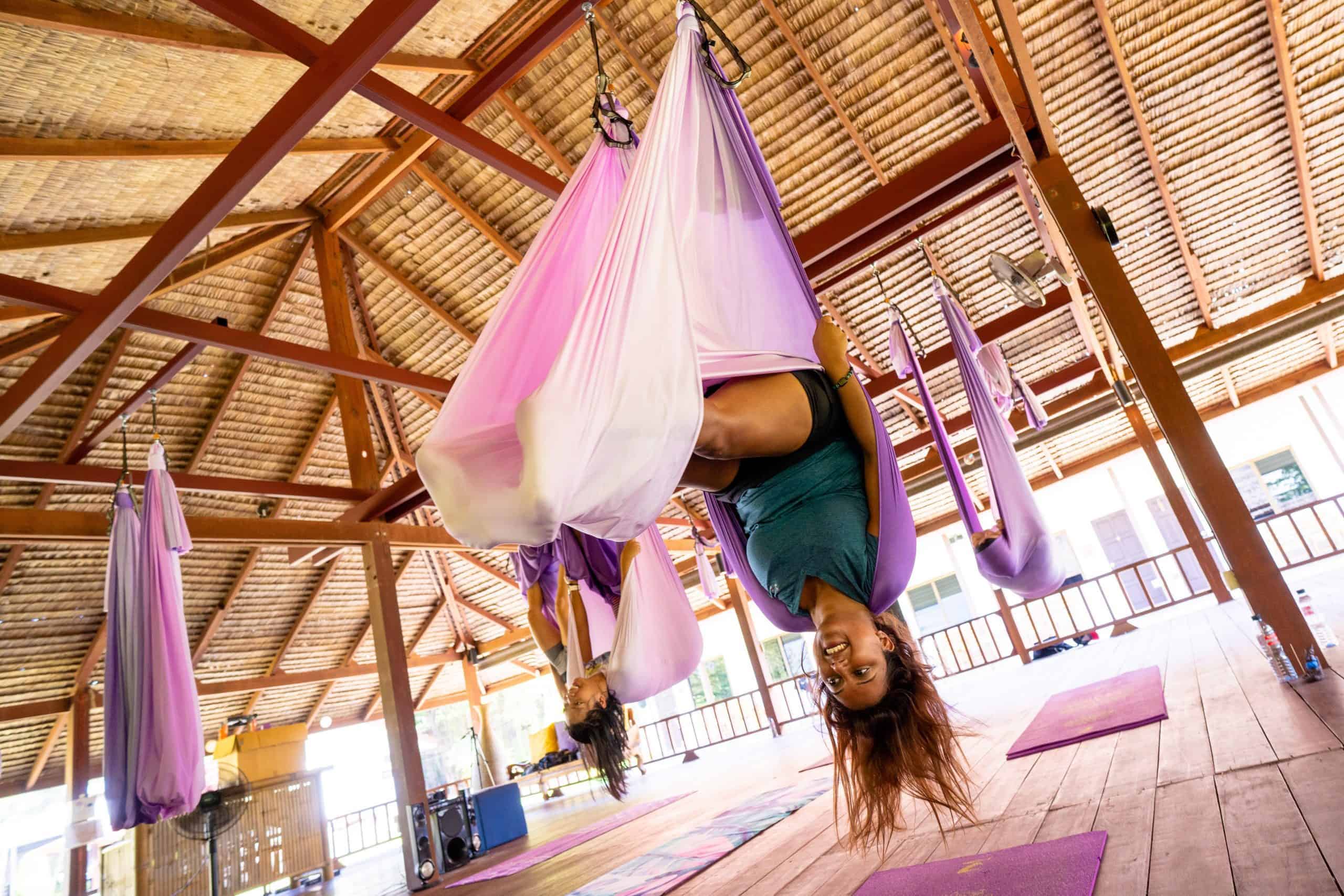 If you've never come across aerial yoga before, prepare to be suspended in disbelief (literally) because this full-body workout blends traditional yoga with aerial art by using a silky sling-like hammock that is draped from the ceiling and supports your full body weight. Suspended in mid-air, the aim is to maneuver your fabric sling to help you hold different poses in the face of gravity, from Downward Dog to Inverted Butterfly. Everything about this yoga form is designed to help you focus on your posture, breathing, relaxation and core strength — plus, pulling a dozen pretty poses in a silk hammock makes for total Instagram gold. But the best bit isn't how good it makes you feel or much fun you'll have, but how beginner-friendly this form of yoga really-really is. Savasana, let's do this. 
They Are No Fitness Gimmick Either.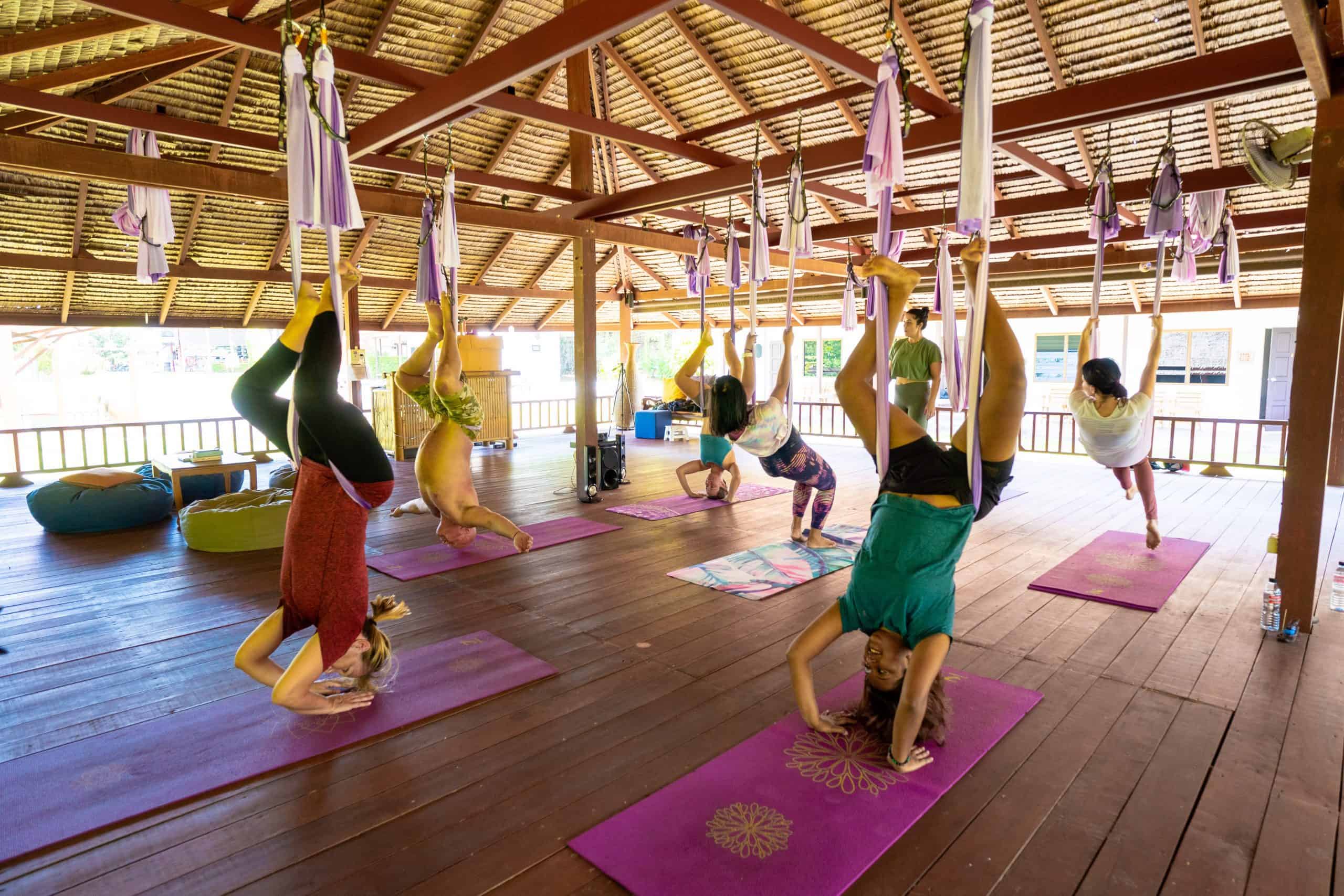 Reading the label, aerial yoga can sound like just another out-of-the-box workout that's designed to look good on your feed and nothing more — but this is no gimmick. This is sweat, smiles and happy tears. This is hard work and dedication. Skill and perseverance. And we're not just saying that because, according to research done by the American Council on Exercise, women who indulge in three 50-minute aerial yoga classes a week for six weeks lost an average of 1.15 kilograms, 2 percent body fat and roughly an inch from their waists, all while boosting their VO2 max (read: general fitness levels) by a massive 11 percent.
Ladies (and gentlemen), aerial yoga is no fitness gimmick; this is a moderate-intensity workout that dips a toe or two into vigorous territory — and that's just your average aerial yoga class. Sign up to something more athletic-based and your trainer will find ways to add in some conditioning, pilates, gymnastics, ballet and high-intensity interval training for an even sweatier workout. Translation: more sweat, bigger results. 
9 Big Benefits That Set Aerial Yoga Apart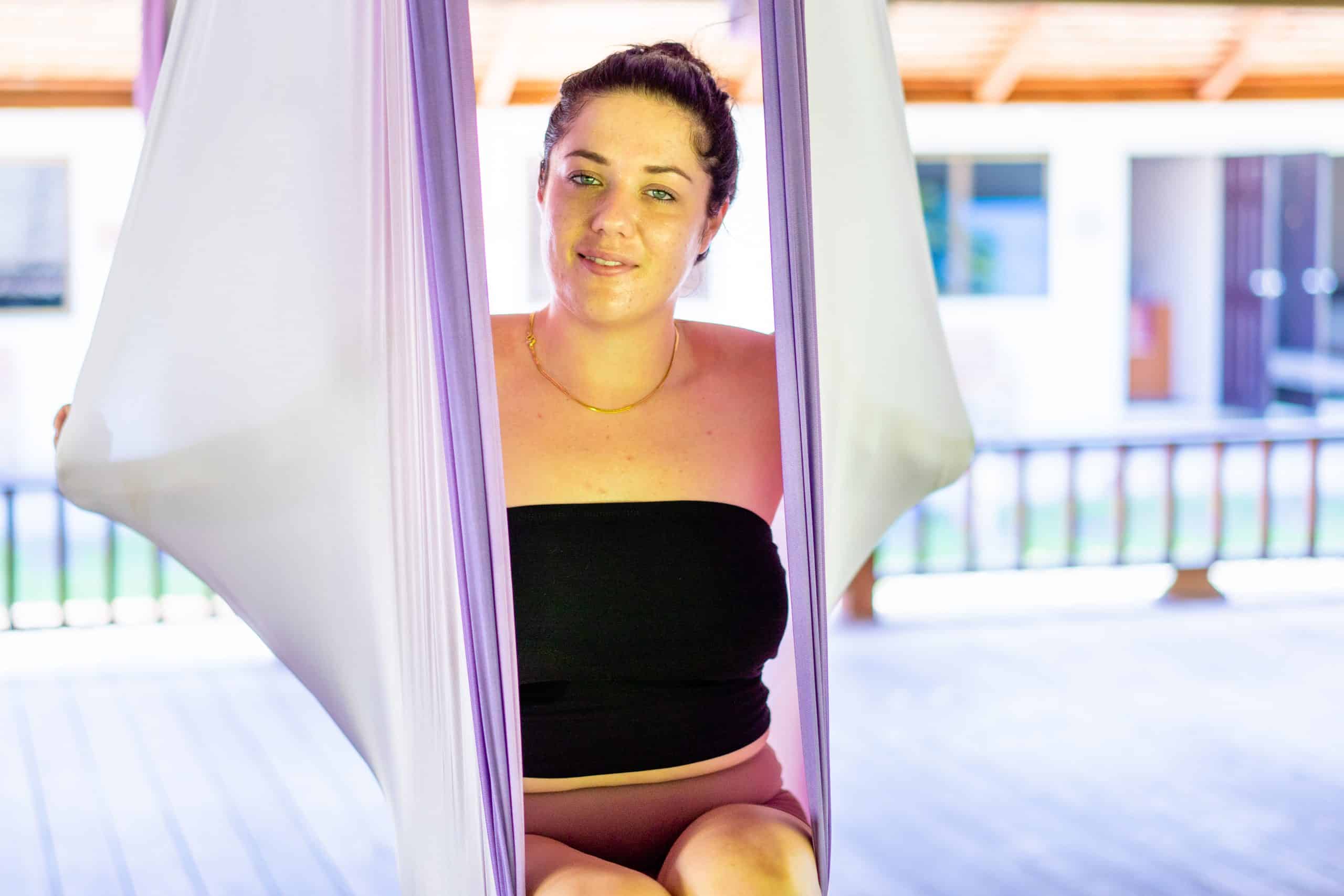 Welcome to your complete body workout:

Forget choosing between leg day and upper body workouts because aerial yoga delivers them both at once. By being suspended mid-air with just a silk swing to support you, balance and counterbalance are a key component of this

intense workout

, meaning that your entire body is made to move and stretch, and

that

is what tones and redefines muscles. 

Your abs get the most mega-workout of all:

Because you're floating off the ground, this routine takes away your normal point of stability so that your core gets engaged the moment you take your feet off the ground — and you won't even realise it at first. Forget sit-ups, crunches and electric-shock therapy, this is the most effective ab workout to enter the fold since balance balls were invented. 

No skills needed:

Not too long ago, ACE (American Council on Exercise) studied a group of randomly selected people aged between 18 and 45 and, guess what, almost all of those involved picked up aerial yoga without any prior training, knowledge or bend-ability

.

So kick-off your shoes, sign-up to our high-flying yoga classes and join the fun (and if you're still a little concerned about going in cold, there are classes for first-timers too). 

Fun, frolics and cardio fitness:

With all

yoga posing

in mid-air, it's no surprise that aerial yoga is great at building strength, especially in your arms, shoulders and core. But it's also an super-cardio intensive too. We're talking about burning 320 calories in just one 50-minute aerial yoga session, which more than you'd achieve doing a 50-minute power walk. 

Zero-impact, zero-problems:

Whether you have knee-problems, no knee-problems, a

Muay Thai

fight on the horizon or you're just trying to keep fit during

your recovery

, nothing beats adding some low – or no – impact workouts to your fitness schedule, which is what makes aerial yoga so great for you. You're floating above the floor, meaning this exercise is just about as easy as you can make it on your joints. 

Hello, Flexibility:

By performing your poses in the air instead of on the ground, your body will find it a thousand times easier to release any muscle tension, making it easier for you to improve your flexibility the more you practise. Your ligaments will lengthen, your muscles will relax, your posture will strengthen and your core muscles will be given a workout that helps improve the level of flexibility in both your spine and shoulders.

Become a master of the mat:

Something about being suspended from the ceiling wrapped in a supple fabric allows you to perform so many inversion poses that would not be possible on the floor. Your movements are less restricted, your stretches are more effective and your ability to pick up new body skills is far easier. Forget kicking yourself onto a wall to perform tricky inversions like forearm stands and experience how a pose should feel by wrapping yourself in silk instead. By doing this – by getting involved in aerial classes – you'll find your regular yoga game is raised and you

take your practise to a new level

. 

The thrill of an acrobat:

Some people get their kicks from sparring, from the burn, from the blood, sweat and tears, but most of us are motivated by experiences that are fun — and it doesn't get more fun than playing acrobat for an hour or so. Without any experience, you're suddenly able to perform gymnastic tricks thanks to the suspended silk swings, bringing a fun-factor to your workout that will have you hooked from the get-go. 

Rejuvenate your body:

One of the most amazing benefits of aerial yoga is its ability to cleanse your system and improve your body's circulatory, respiratory and digestive systems, which is all a by-product of their being less stress, tension and impact involved. And the good news doesn't stop there because, when you're body is functioning better, you get a mental boost as well with your mind relaxing more. It's a win-win situation whichever pose you pull.

Walk away feeling zen:

The reason yoga is such a positive force in people's lives is its ability to combine mind and body activities, which research has shown to reduce stress. Aerial yoga is no different. It enhances your mood, relieves stress, works to rebuild your emotional system and promotes

mindfulness

. But what do you expect when most classes end with you lying in savasana pose, snuggled into a soft silk hammock gently swinging from side to side. Hint: that's how to bliss out. 
But here is the best bit of it all: the above benefits are just the physical and mental benefits. The other area that deserves a nod of appreciation is aerial yoga's ability to spiritually uplift those who practise it. Whatever is going on in your life, practising yoga (while supported by nothing but silk ribbons) has a way of taking you to an extraordinary place that relaxes your mind, improves your creativity and floods your body with positivity and joy. So, what are you waiting for: try it for yourself, and then check it off your bucket list entirely by attending classes at a yoga retreat in Thailand.   Better still, come and join us to practice aerial yoga at Sumalee.
Thanks for reading! For more tips, tricks and bits of advice, follow Sumalee Yoga on Facebook and Instagram, or sign up for our special offers on the Sumalee Boxing Gym website.
If you have any questions about Thailand or if you need more information please contact us on info@sumaleeboxingboxinggym.com.  For updates on and information from Sumalee Boxing Gym please either subscribe to our mailing list via the home page of the website.  You can also subscribe to our online membership platform for more comprehensive and regular features on a variety of topics including: nutrition, Muay Thai, Thailand, running a business in Thailand, technique tips from well known guest fighters and more.
___________________________________________________________________________
After 11 years of living in Phuket, Thailand and being involved in the Muay Thai community for all of this time, Lynne Miller has written a book about her personal journey to and experiences of owning a Muay Thai gym in her book "Fighting for Success'.  You can find out more about the book here.  It is available to purchase on Amazon.
If you have any specific questions you would like to ask, please do not hesitate to contact us: info@sumaleeboxinggym.com
Blog post updated: 4/11/21