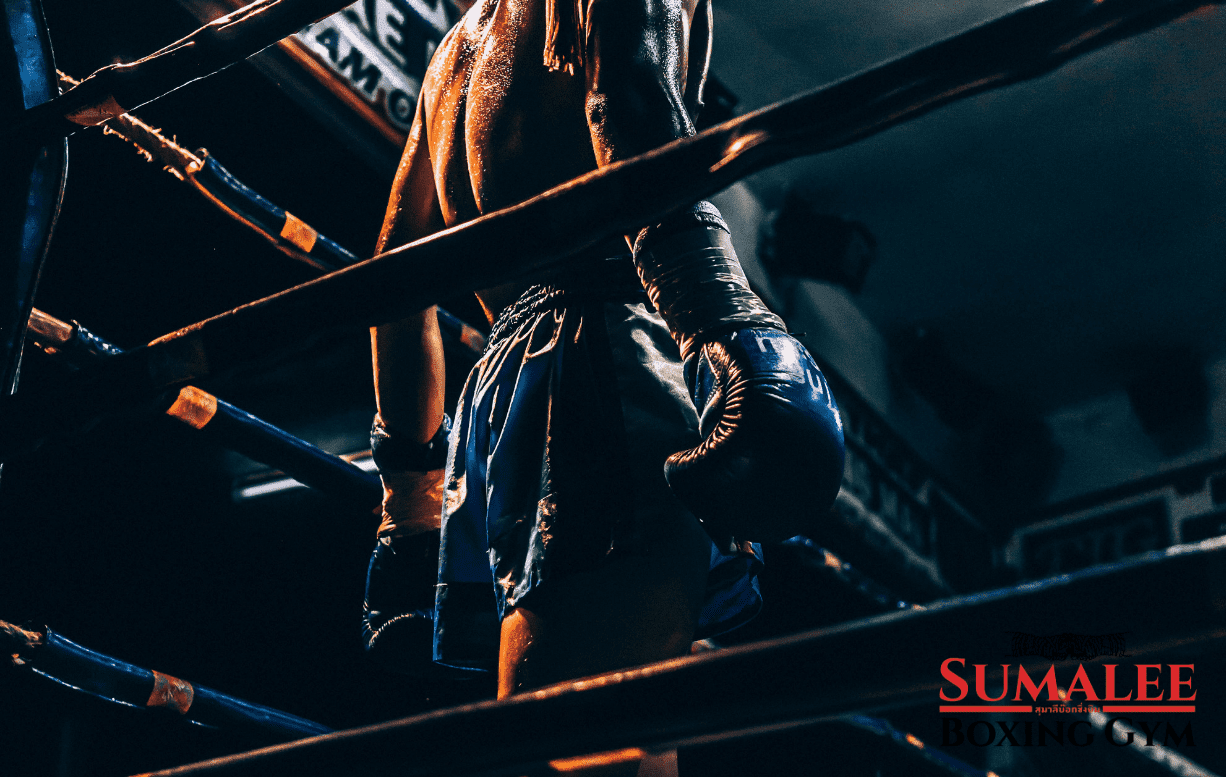 Your first Muay Thai fight in Thailand is the one you'll remember most, and here's how to prepare for it.
The first thing you need to know is: a Muay Thai fight in Thailand consists of 5 rounds, each of those rounds lasting 3 minutes. Sure, you might get the chance to end the fight early, but only if you knock out your opponent  –  or if they get through your defense first – but every fighter trains for 5 rounds. 
The second thing you need to know is: having a Muay Thai fight in Thailand is not like fighting anywhere else.
The arenas are usually packed, the noise is intense, the temperature is hot and humid, and the atmosphere has this cramped feeling, and it all adds to the unique buzz that's synonymous with Thai boxing stadiums. They are an absolute assault on the senses. Inside the ring, there are two fighters standing in opposite corners, trying to control their breathing and anxiety, brains thinking back to their training before they touch gloves and start exchanging blows – kicks, punches, elbows, knees and well-conditioned shins all searching for victory. And outside the ring, you have a cacophony of noise. A mix of locals and tourists jumping up from their seats and on to their feet as they shout, scream, cheer and jeer. 
 Yeah, your first Muay Thai fight in Thailand is like nothing else. A total shock to the system.
But it will also be the most incredible moment in your Muay Thai journey. Period. 
And here's how to prepare for your first Muay Thai fight in Thailand: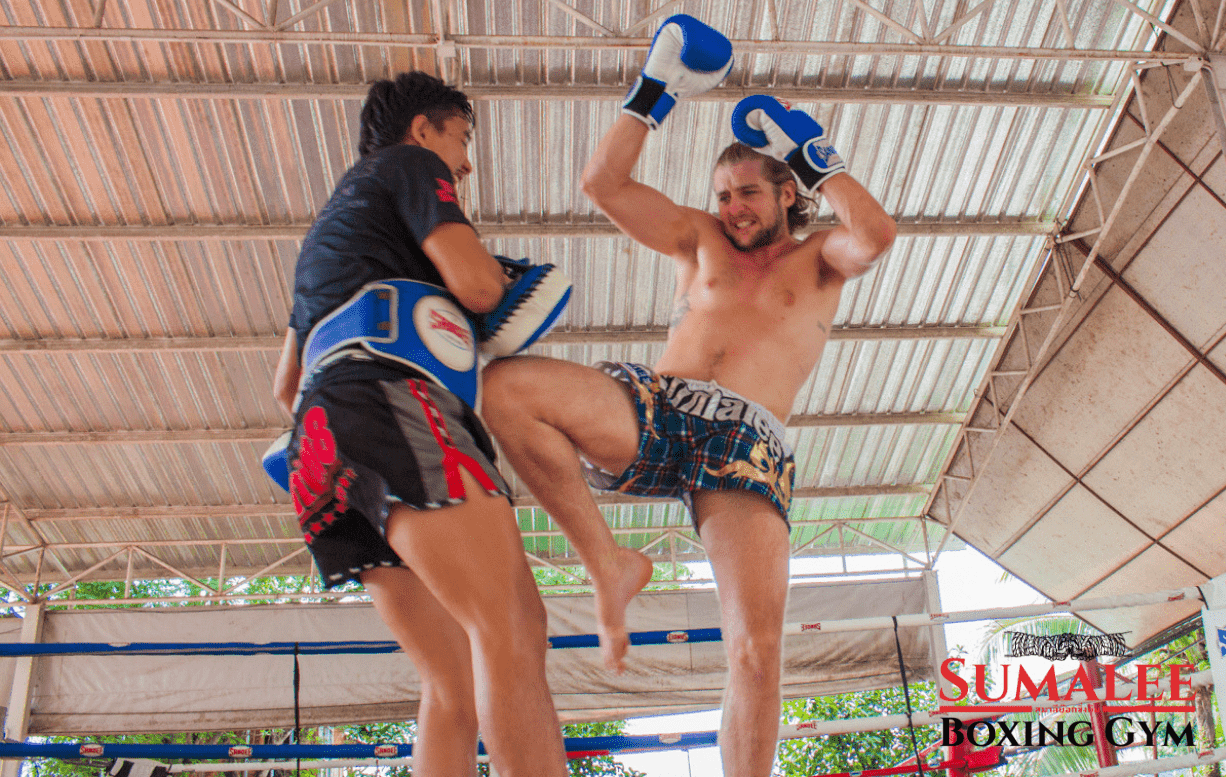 Stay At A Top-Level Training Camp
Before you step through the ropes, you need to eat, drink and breathe Muay Thai — and there's no better way of doing than to train at a highly-celebrated boxing gym. These are magical grounds for every fighter wanting to put their training to the test, which is partly because you'll learn under a team of high calibre trainers that have trained hundreds of fighters for competition, but mainly because seeing results means putting in the hours. Lots and lots of hours. 
There is no shortcut to success in the world of Muay Thai, but training at a gym known for its excellence will ensure every drop of efficiency is squeeezed out and you're turned into a more skilled, confident, fight-ready, Thai boxer in a matter of months, not years. 
The secret is knowing what to expect from the training camps on your radar and weighing up their philosophy and ethos with your own wants and needs. After all, every gym is different. In an ideal world, you want to find a training camp that offers the highest level of training, support, recovery, diet, understanding and, above all, a positive atmosphere where every fighter around you becomes an incredible role model – a pick-me-up following the hours of running, stretching, padwork, bag work, sparring and intense training
When the end game is your first Muay Thai fight in Thailand, the most eye-opening lesson you can learn is this: resilience is a skill that you can – and must – develop, learn and sharpen. Period.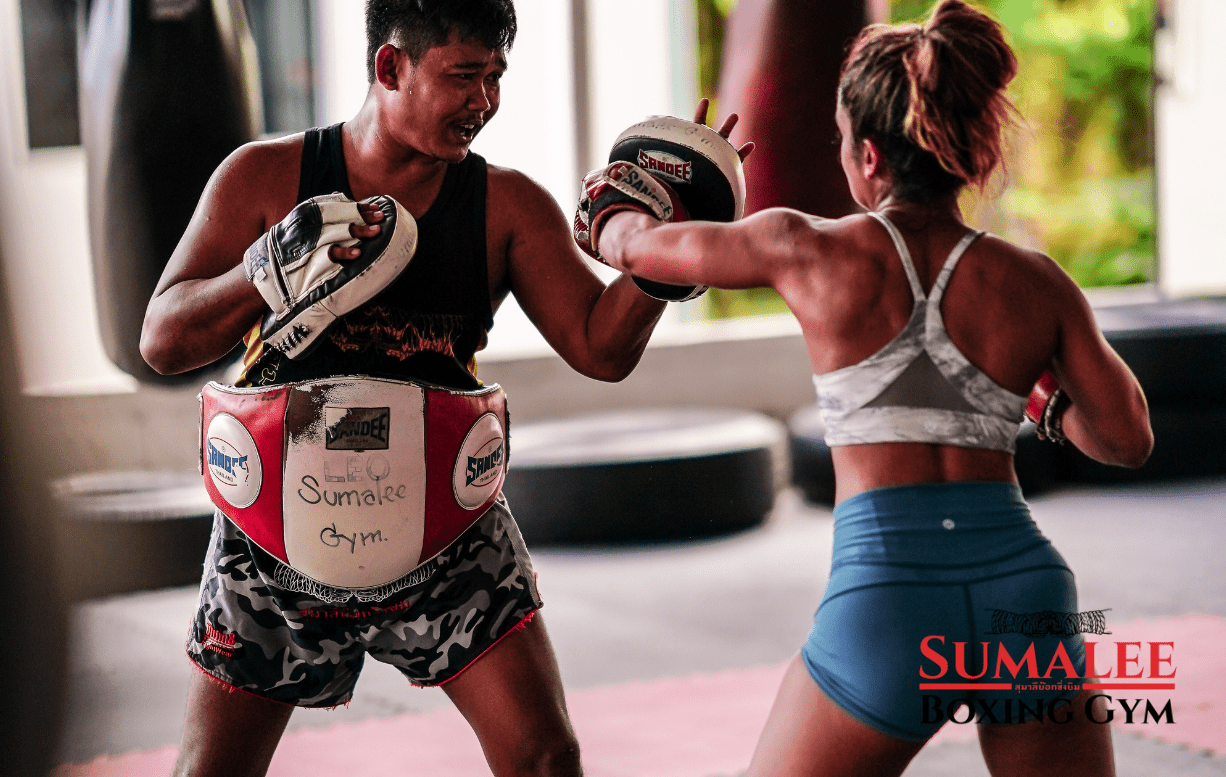 Understand What's Required Of You
From the moment you first decide you want to step through the ropes and into the ring, there are certain things you need to wrap your head around and focus on as much as possible; things you need to take into consideration and then work on. The intensity of that first fight shocks everyone, and for that reason you must:
Devote a significant amount of time to your fight preparation. Not what you would normally devote to your training repertoire, but more. Much,

much

more. 

Be in peak physical condition

.

Totally

. Your cardiovascular system, muscle strength, shin conditioning, energy levels, everything. You need to be in the shape of your life (which is why we put training camps at the very top of the list).

Have a deep technical knowledge about the different Muay Thai techniques, what combinations to throw when, how to identify feints, how to control your concentration, the art of defence and more. You need to have understood – and, to a degree, mastered – the skills involved in Muay Thai.

Know

how to cut weight

without sacrificing energy.

Be able to retain your composure and strength – both mentally and physically – for the duration of 5 rounds.

Understand the points scoring system in Thailand…it's surprising how many people fight not knowing this.
Learn the Wai Khru….it will give an air of confidence, even if you don't feel it.
And to maintain this motivation, the best thing you can do is assume your opponent is as technically apt, mentally strong and physically fit as you are, if not more so. Do that and you will find it easier to focus on what is needed from you, what level of dedication is required and what sort of challenge will be mounted against you. That is the challenge. Of course, the harder you train, the bigger your advantage will be over your opponent.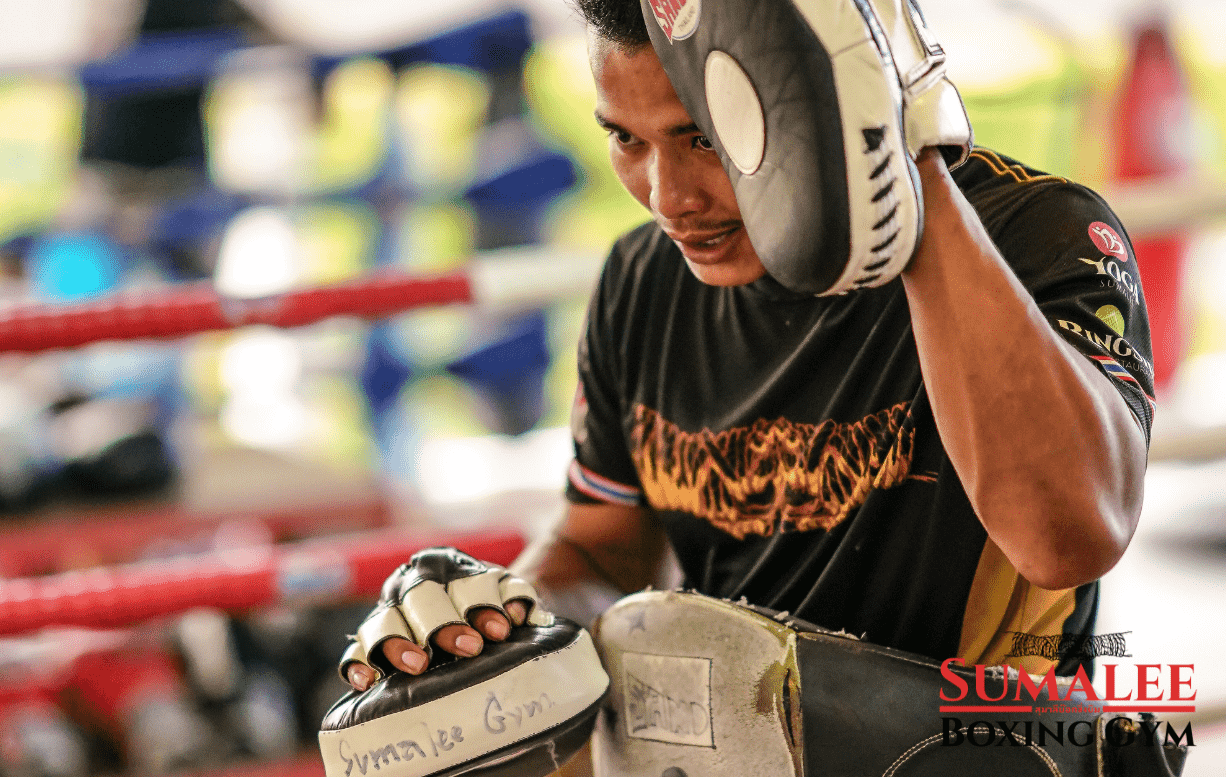 Listen – And Talk – To Your Trainer
The hardest thing is taking the leap, accepting the end zone is the ring and deciding to put everything you have learned to the test, and that's exactly why you need to talk to your trainer about your desires – your want to compete.
It's a terrifying moment in every fighter's journey, but one you will feel epic about after. Think about it. Most people, in normal life, tend to wait until they feel '100% ready' to apply for a job or step outside their comfort zones. They want to 'tick all the boxes' before putting themselves forward for an interview. But sometimes you need to fly even though you're not sure you can walk, and that's what makes your trainer so important. If they believe you are ready, then take the leap. 
Trust their assessment, take up their offer to start training for a fight instead of just training and let them guide you properly. And if you have any questions, concerns, fears or anxieties, talk them through with your training team – if they believe in you, they'll help you believe in yourself.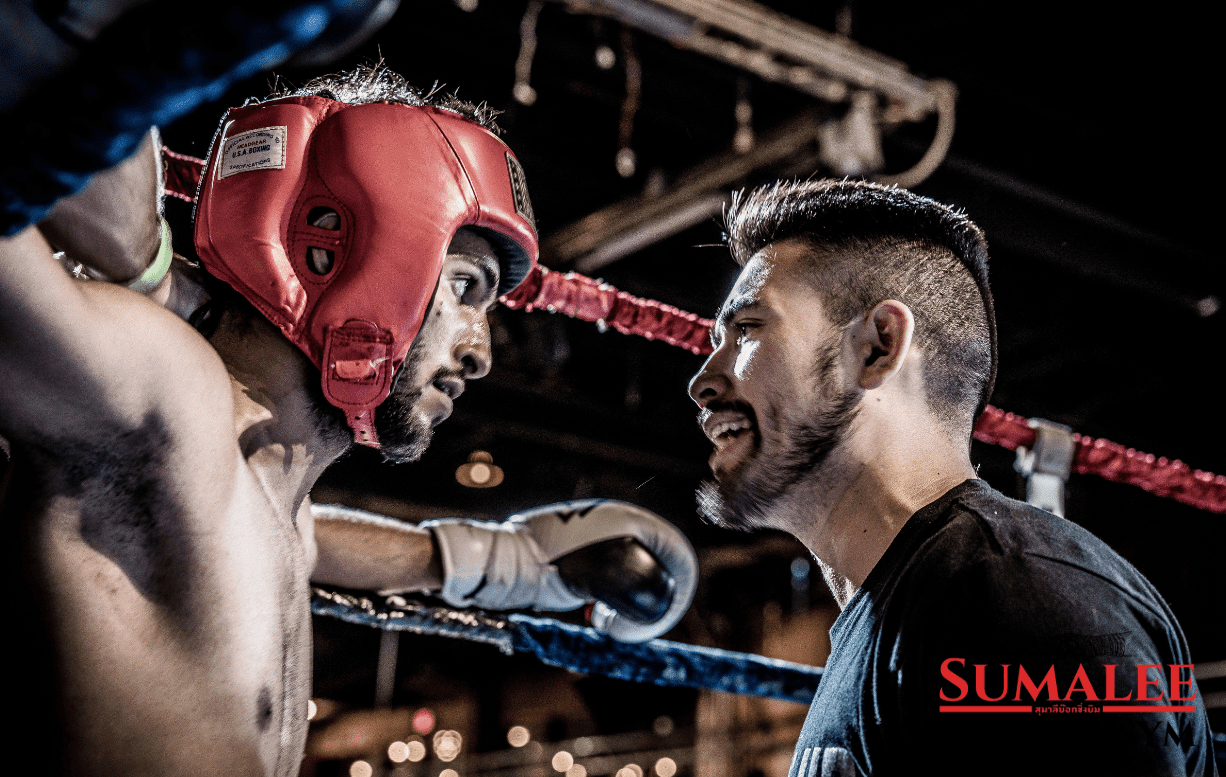 Do What Your Trainer Tells You
Like we already said, when you train at an established Muay Thai camp, you'll be learning from trainers that have taken hundreds of fighters from the gym to the ring. They've been there and done it – all you have to do is listen to what they are saying, learn why they are saying it and practise until you have perfected it. 
Most of the time, your training will consist of 20 hours training a week. That translates as 3-4 hours of intense training a day, 6 days a week for at least 8 weeks, and you'll want to give your all to these sessions so that you're prepared for the ring (If you're not training hard, if you're not throwing yourself 100% into the bags and pads it will mess with your balance, timing and stamina in the ring). 
What an average day looks like differs depending on what is required from you and what your trainer believes is important, but training for a fight will consist of running, strength and conditioning, bag work, pad work, clinches, stretching, yoga, massages, foam roller work and sparring every second or third day (which will help you get used to the intensity of a real fight without risking injury). 
What your trainer will also teach you is the importance (and by that we mean an absolute must) of downtime. Rest and recovery. A skill in itself. It's about using your downtime between training sessions and allowing your body to recuperate fully on your days off. That means doing as little as possible, sleeping a lot, eating correctly and not going near the gym unless your trainer tells you to. Listen to your trainer: they will tell you how important it is for your body to recover, your muscles to break and then rebuild, your bones to repair, your strength to regenerate, and they will provide you with the right recovery strategies.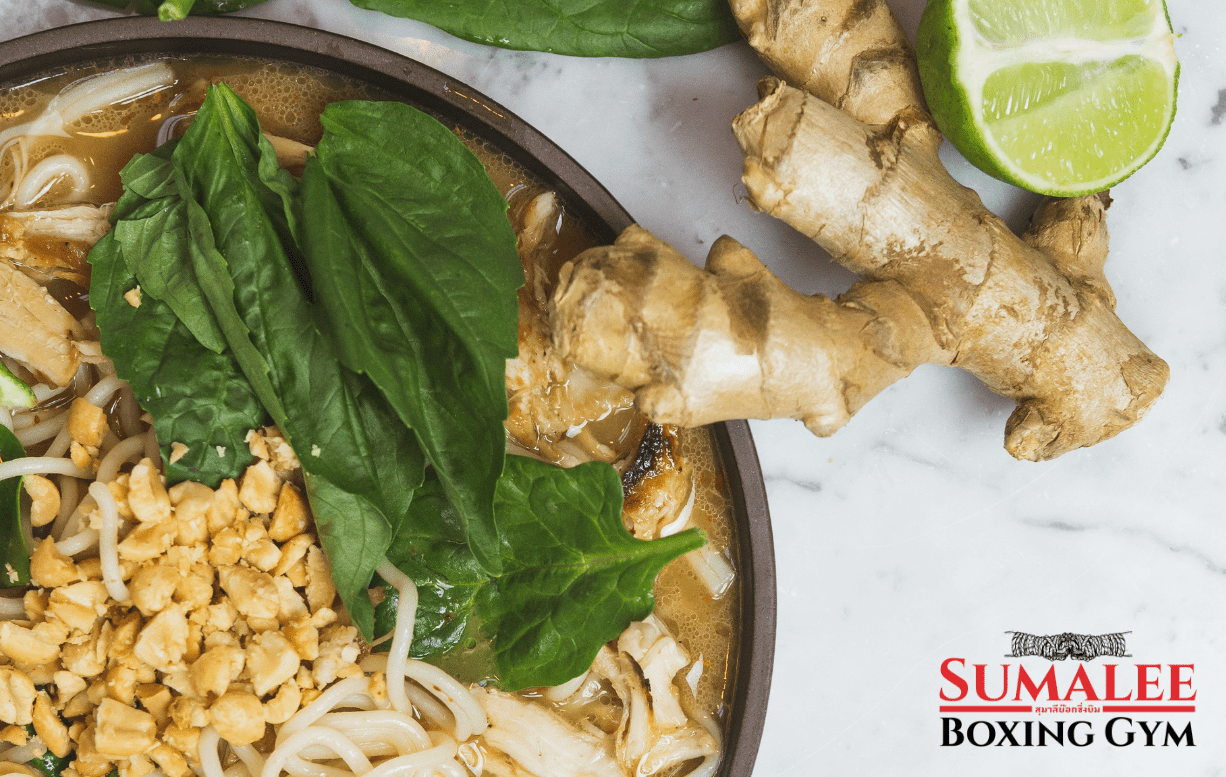 Train Hard, Eat Healthy & Rest Easy
Understanding your body – and its needs – in the build-up to a Muay Thai fight in Thailand is as important as knowing how to launch a high kick, which is why we have broken down these needs into bitesize canapés for you to digest:
Sleep: the most effective recovery strategy available is sleep. Lots of sleep. The reason for this is your blood pressure is allowed to drop and your heart will get a much-deserved rest. But that's not all. Sleep is also necessary because it encourages your body to release a bunch of hormones that will help slow your breathing down, relax the major muscles in your body, reduce any inflammation you might have and assist with the healing process in general. To maximise this, try and get between 7 and 9 hours of sleep every single day.
Water: H20 needs to be forever on your mind, especially before, during and after a cardio session. It's about hydrating and rehydrating, which will ensure you're replacing the huge amount of water you'll lose through sweating. But don't just rely on normal water. If you're pushing yourself to the limit every time you train (because of your upcoming fight), try replenishing your electrolytes too by guzzling on coconut water, which is loaded with potassium and magnesium.
Multivitamins: when you're training for a fight, you're training hard, and that can have a negative impact on your immune system. It's a by-product of wearing yourself down, and probably the worst thing that can happen in the week before a fight. That's why you should remember to take a good quality multivitamin each day as a way of boosting your immune system and ensuring your fighting fit (pun intended).
Diet: effective workouts demand a complete understanding of nutrition, and the most important part of this is understanding what your body craves and that is lean meats, fresh fish, fruits and vegetables, berries, seeds, nuts and whole grains, and in their most natural form too, allowing yourself 10% for the more naughty things in life. It's also about avoiding large meals and eating 5 or 6 smaller meals every 3 to 4 hours, which will help your body energise and recover faster. 
On top of that, try and avoid simple carbs like sugar, white bread, pasta, white rice and white potatoes, opting for more complex carbs instead, whole foods like sweet potato, brown rice, whole wheat bread and wholemeal pasta, while upholding the no carbs three hours before bedtime, especially when trying to cut weight. The other thing you should do in the build-up to a fight is eat your veggies, lots of them, especially the leafy green stuff like spinach and kale. And eat fruit, but eat it when your body needs it, such as right before your workout for an energy boost or just after a session for recovery.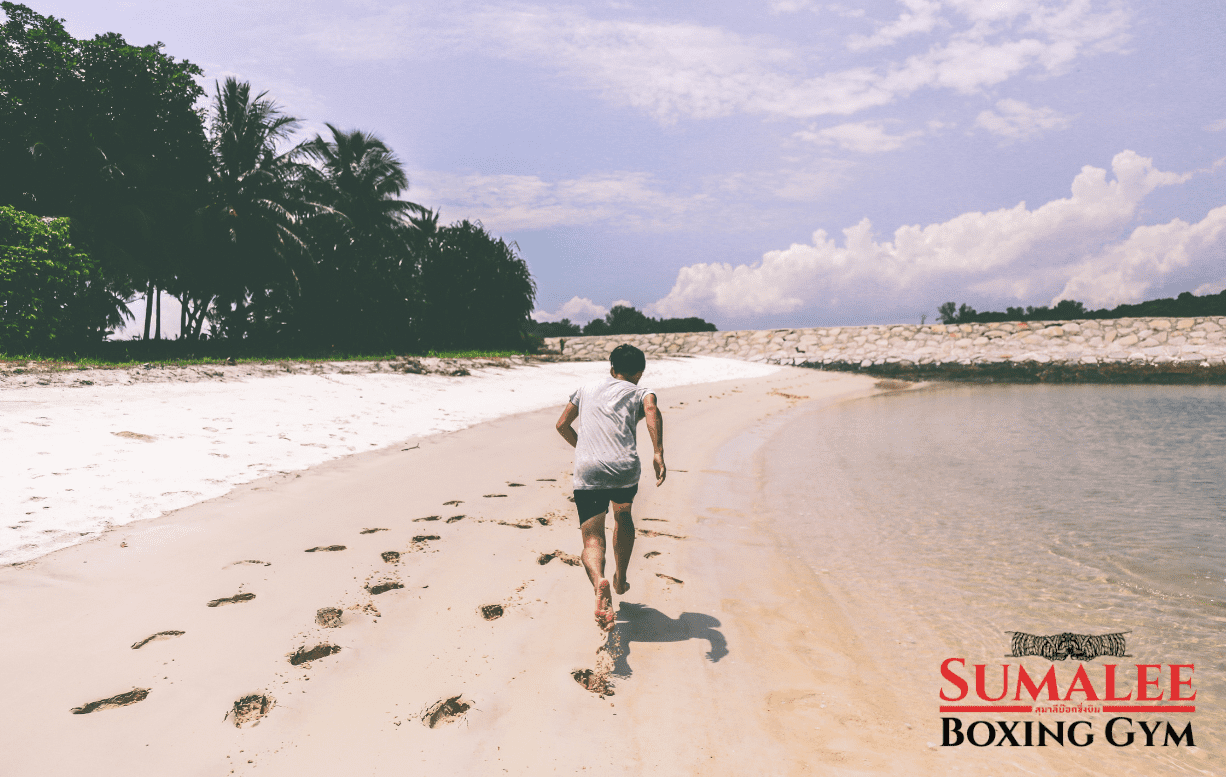 Take Your Endurance Further
Only the greatest Muay Thai fighters know the importance of a never-dwindling endurance, and that comes from improving your cardiovascular system, whether that be running, gym sessions or beach workouts. It's about having the lung capacity and energy to sustain your strategy, fend off an attack and outlast your opponent and effectively cause the opposition to run out of gas, which can be one of the sharpest ways of beating an opponent that's physically tougher than you. You don't want to puff out, and that requires putting in the time and effort in the gym.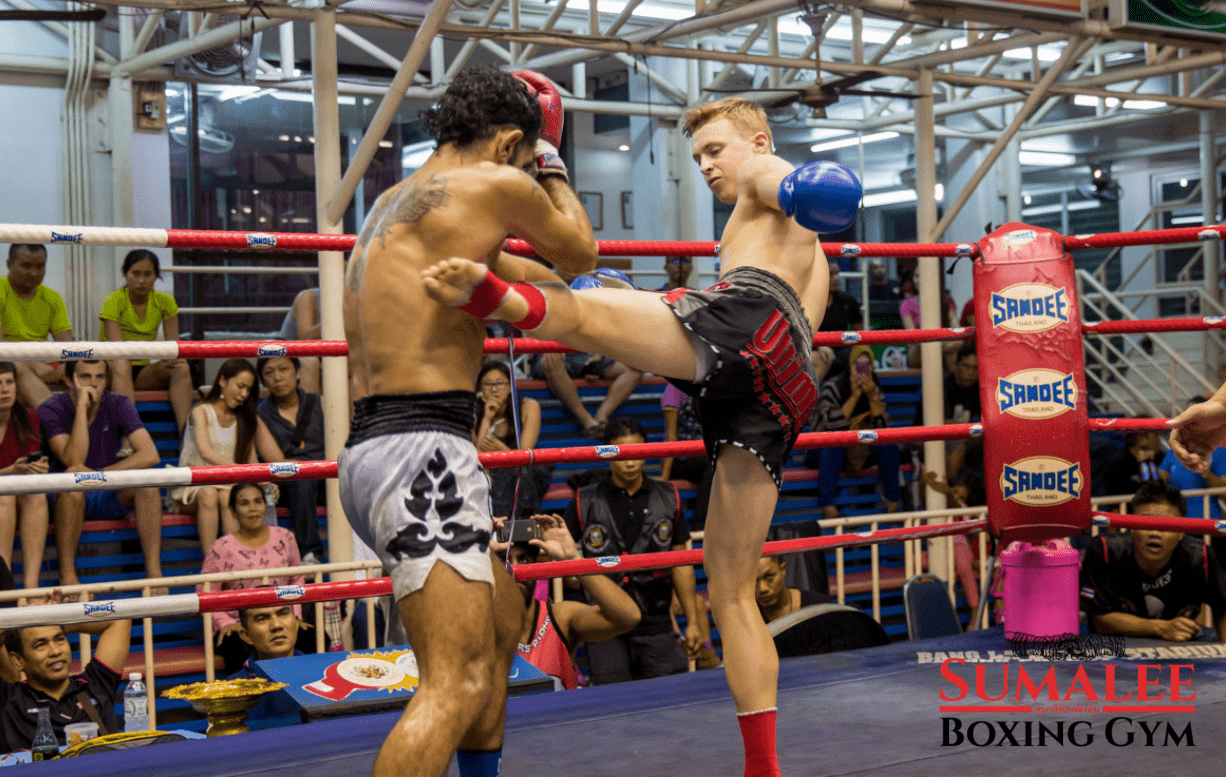 Sparring Is Everything
The first time you step into a ring, you're going to lose about 70% of your energy through anxiety. The noise, the roaring crowd, the heat, humidity, the anticipation of what is to come – it is all draining. But sparring helps you control all that and give you an edge. It gives you in-ring experience, allows you to work on your technical ability, control your range, understand the different angles your opponent can attack from, work out which of your eight weapons you are most effective with, how to move around the ring, block and defend. It will also help you control your head. It will help you learn how to remain calm and composed in the face of an opponent, which is as valuable as any other skill. 
But, above it all, it will help you develop the ultimate tool: heart.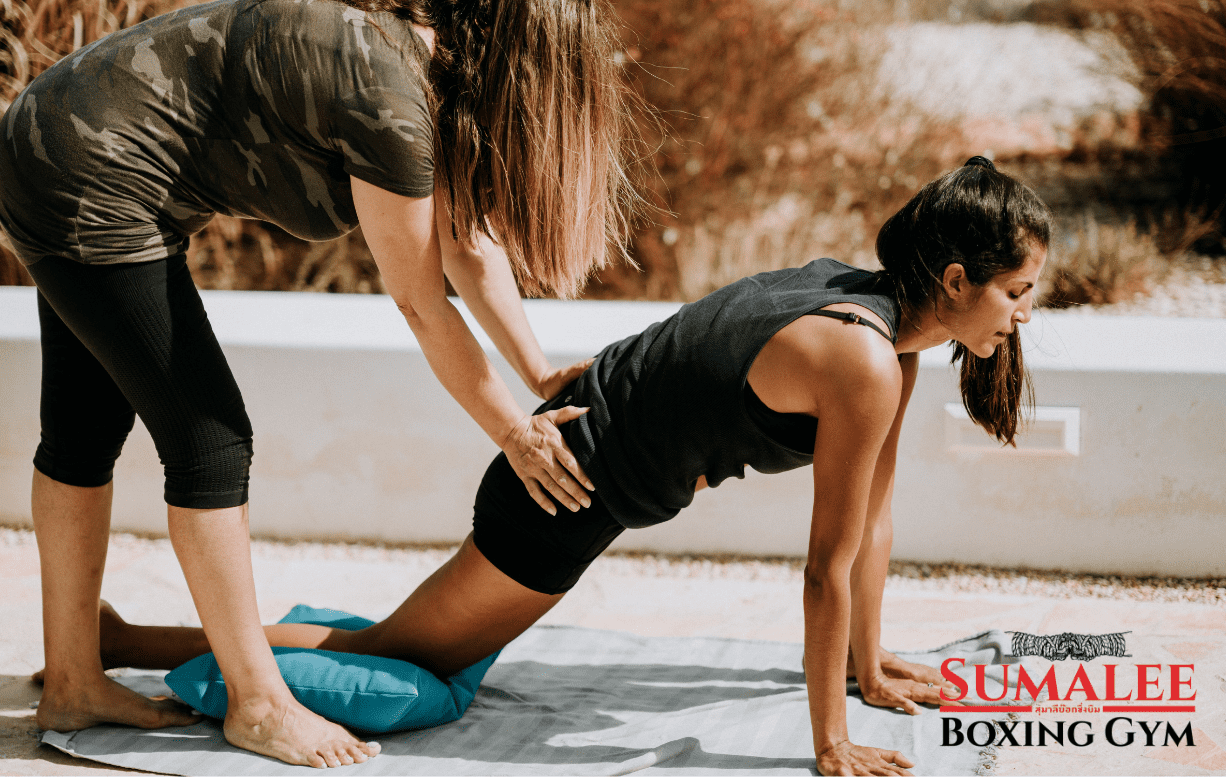 Yoga Is The Perfect Partner
As a fighter, it's pretty much impossible to avoid stress – physical, mental and emotional stress – all of which can negatively impact the other areas of your training, from your digestion to your sleep, to your recovery. That's what makes yoga such a life-saver in this sport.
In its most basic form, yoga is about mindfulness. It is about mastering the art of breathing. It is about letting go of the tension in your body. And when you have learned how to achieve this, you'll find your progress benefits from a reduction in your cortisol levels and your stress hormones. 
You'll also find your immune system gets an all-important boost, your chances of suffering an injury are drastically reduced, your mental and physical recovery speeds up and, yes, you'll be able to increase the intensity of your training. But above all, it will allow you to take this mindfulness into the ring, and that's where your composure will come from, helping you to visualise the different fight-scenarios that could unfold in the ring, anticipate what might happen the next time you throw a kick and help you keep your head when you're on the backfoot.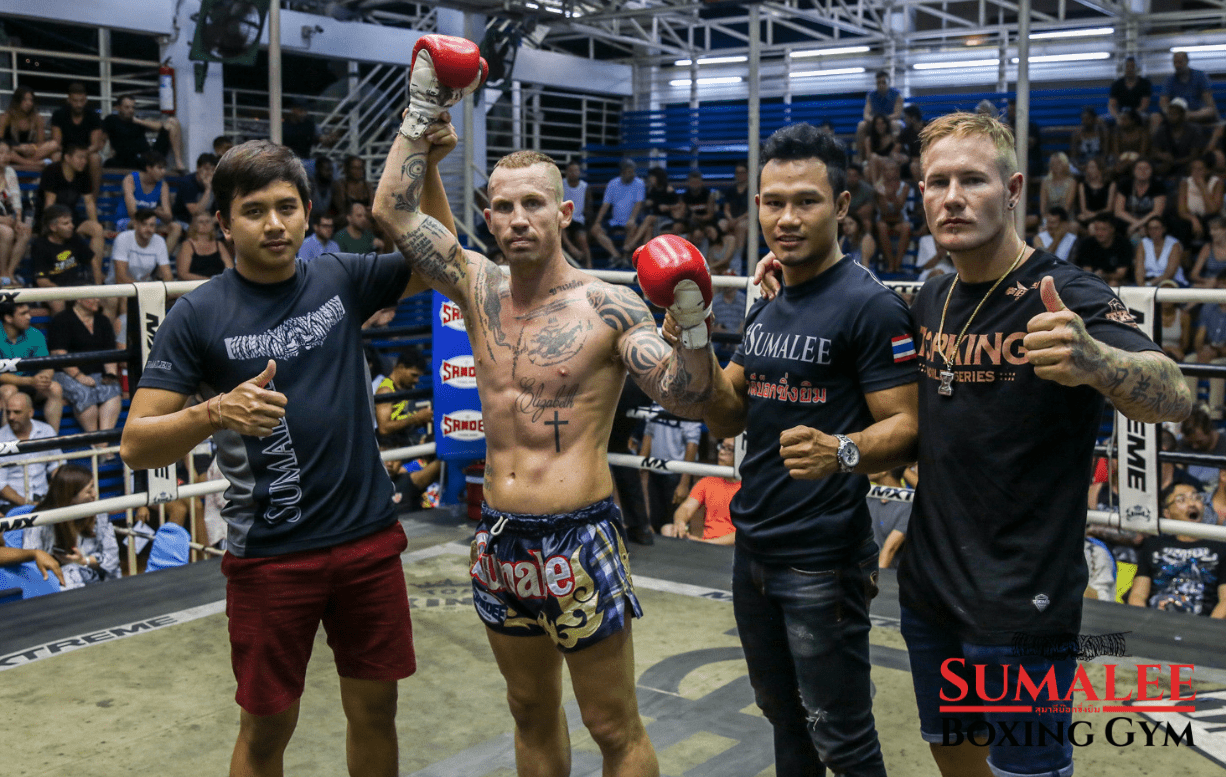 Weight Cut, But Do It Safely
By watching what you eat, speaking to your in-house nutritionist and working your ass off in the weeks before your first fight, you can cut a significant weight. The trick is doing so without losing your energy conserves, which can be achieved with these two rules. 
Don't overeat after the weigh-in.

Instead, eat a healthy diet of whole foods and eat them steadily. That way you will avoid any bloat and that dreaded "I feel like crap" feeling.

Don't change up your diet.

Whatever you're used to eating, stick with it, especially as you close in on fight night. You don't want to risk eating anything that your body might have an unfamiliar reaction too, which is why we would recommend either cooking at home or eating at the

Ringside restaurant

where they can tweak your meal for your needs. Don't risk eating at a restaurant you've not eaten at before.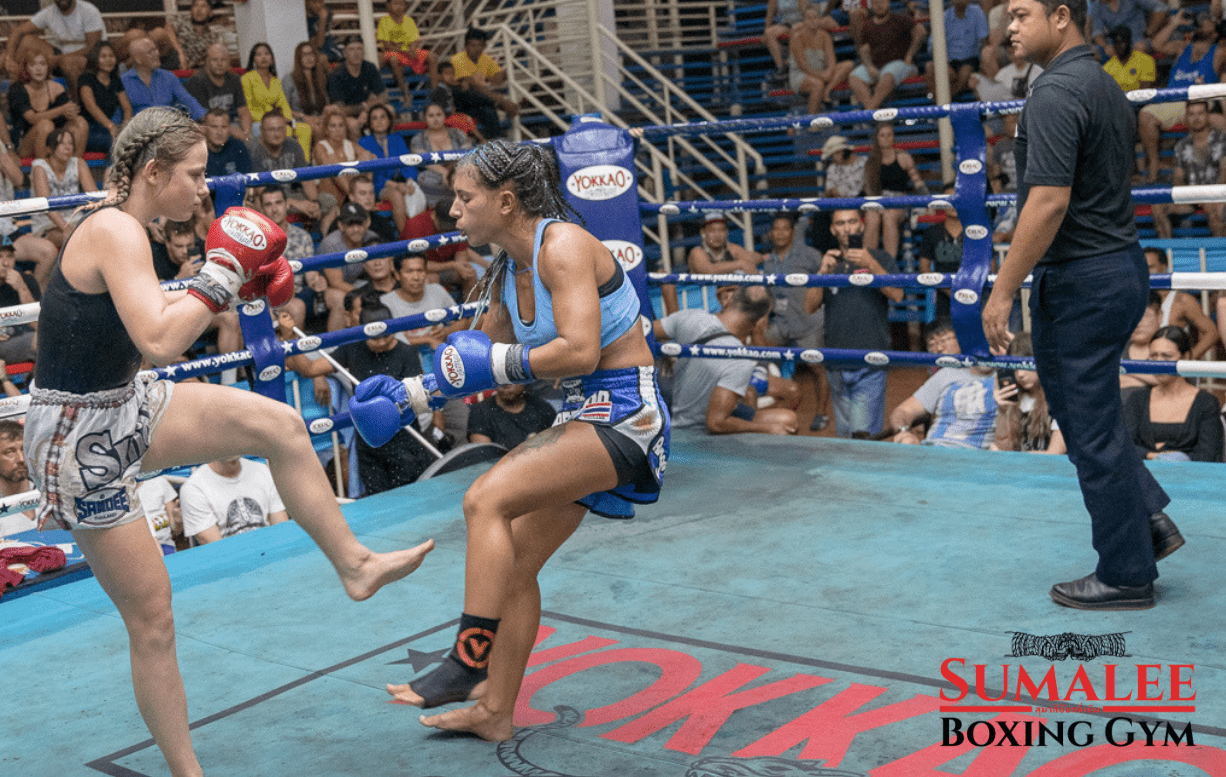 Conserve Your Energy
On the day of your fight, do everything you can to conserve your energy. As we've already said, just the anxiety of stepping through the ropes can wreak havoc – so do everything you can to relax. Don't walk around the room pacing, don't do any unnecessary shadow boxing in the locker room and don't do a thousand sit-ups to strengthen your abs because every calorie you burn is a calorie you'll wish you had on your side when you've stepped in the ring. 
Instead, sit down, relax, pop on a chilled out Spotify playlist and try not to think about the upcoming fight too much. Read a book, listen to a podcast, sit around with your teammates sharing funny stories, anything to keep your anxiety levels down before the fight. 
And then, when you do get in the ring, enjoy it. Be in the moment. Embrace all the emotions you are feeling. And remember, this is it. This is the first fight you'll ever be involved in, the one you will remember forever and the one you'll learn the most from. So get in there, give it your best, try and remember your coaches instructions, try not to let all your strategy and training disappear in a crazed flurry of fists, try not to burn yourself out with a thousand kicks and punches all thrown with full power, think about your technique, focus on your balance, timing and stamina, and win yourself over with your heart. 
You will make mistakes. Every fighter does at every level. But in the ring, and in life, you either win or you learn. You either win or you learn. 
Thanks for reading! 
For more tips, tricks and bits of advice, follow Sumalee on Facebook and Instagram, or sign up for our special offers on our website.
___________________________________________________________________________
After 11 years of living in Phuket, Thailand and being involved in the Muay Thai community for all of this time, Lynne Miller has written a book about her personal journey to and experiences of owning a Muay Thai gym in her book "Fighting for Success'.  You can find out more about the book here.  It is available to purchase on Amazon.
If you have any specific questions you would like to ask, please do not hesitate to contact us: info@sumaleeboxinggym.com
Blog post updated: 4/11/21